ISO 9001: 2008, 14001: 2004 and 27001:2013 certificates
Taking care of the continuous improvement of the quality of services provided in our printing house, a quality management system in accordance with the ISO 9001: 2008 standard was developed and implemented. The certificate has been approved by TÜV Rheinland Poland LLC includes printing services in the full range, with particular emphasis on printed and secured prints.
In implementing the policy of improving quality, we have in mind:
raising service standards set by clients,

monitoring development trends on the printing market to ensure the use of appropriate technologies for the highest level of service provided,
making the qualification assessment of suppliers and the use of production materials in accordance with the customer's specified quality requirements,
supporting and improving cooperation with suppliers of materials and parts, application of raw materials and technologies tested in terms of safety for people and the environment in production processes,
activities aimed at protecting natural resources by limiting the use of paper and electricity,
improvement of technological processes and modernization of devices aimed at reducing harmful impact on the environment,
staff training for raising the required qualifications and motivating for development in areas related to quality, environmental protection and pro-ecological behavior.
We are convinced that the implementation of the objectives of the Integrated Management System Policy will contribute to continuous improvement of satisfaction and satisfaction of customers who acquire our product, will refer it to a company capable of integrating the highest quality with care for the natural environment.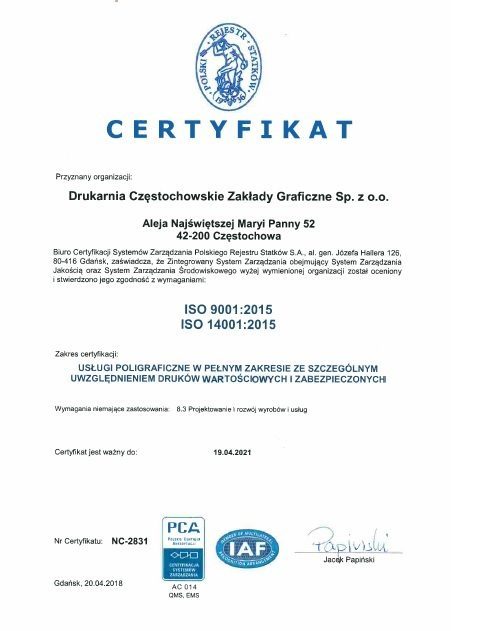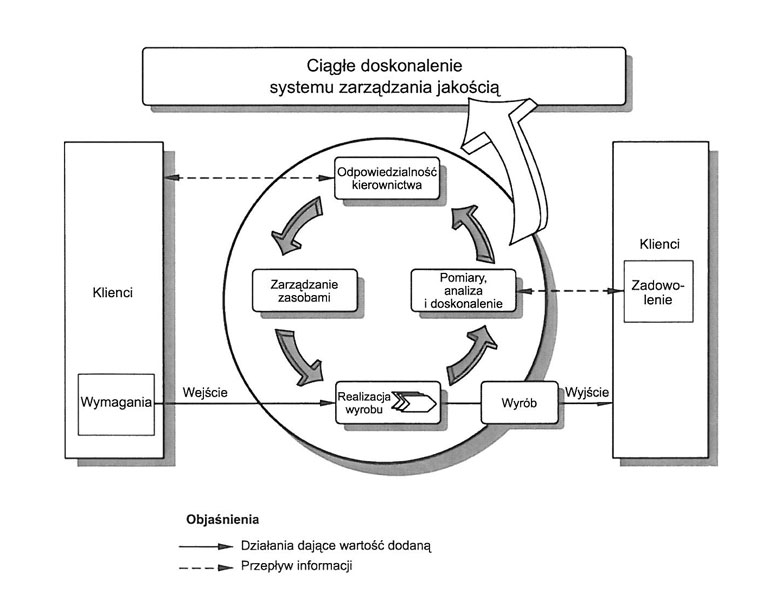 Policy of the Integrated Management System
We provide our clients with reliability and experience in the scope of provided printing services, keeping in mind the continuous process of improving the Integrated Management System in line with the ISO 9001: 2008 and 14001: 2004 standards as a basic tool for planning and coordinating environmental activities in quality areas for the provided services and through cost optimization.
Particularly important in our activity is:
getting to know, creating and satisfying the needs and expectations of clients at all stages of cooperation,

striving to achieve compliance of the delivered product with the accepted patterns,

continually improving the quality of services provided,

implementation of effective and effective company development policy in the organizational and technological terms,

the use of processes, practices, techniques, materials, products, services and energy that will contribute to avoiding, reducing or supervising the creation, emission or excretion of pollutants or wastes in order to reduce adverse environmental aspects,

establishing a framework, reviewing objectives, environmental tasks and their implementation,

continuous improvement of human potential also in the field of ecological education.